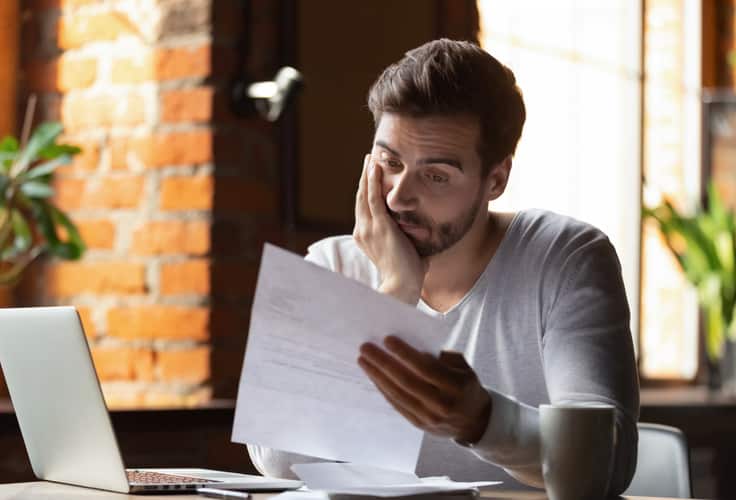 14 Nov

How To Read A Credit Report

Credit reports are probably not the type of reading material that most people find interesting; however, you might want to pay attention to them. Your credit report and credit rating help determine whether you are approved to borrow money for important major purchases, such as a home or a vehicle. If an error makes its way into your credit report and goes unnoticed, it can cause ongoing damage to your credit rating, possibly preventing you from buying your dream house. That's why reviewing and understanding a credit report and disputing any errors that you discover are important habits to begin and maintain. Here are some tips to help you review your credit report every year.

The Fair Credit Reporting Act (FCRA) was enacted by the U.S. government in 1970 to protect U.S. consumers from inaccurate information in their credit reports. These credit reports contain important information regarding your credit accounts, bill repayment status and debt history. In order for consumers to review their credit information and correct any inaccuracies, the FCRA entitles everyone to a free copy of their credit report every 12 months from one of the reporting agencies: Equifax, Experian and TransUnion.

Knowing how to read a credit report isn't as intimidating as it sounds. The page layout might look slightly different from agency to agency, but the same information is supplied in each report. The four components of a credit report are:
1. Personally identifiable information, such as your name, address, date of birth and social security number. Be certain everything is spelled correctly, and numbers are not transposed. Always protect your personally identifiable information to keep unauthorized individuals from acquiring it. Shred documents that include social security numbers and account numbers. Change your log-in passwords regularly and don't share password clues on social media. The more information that a stranger can compile, the easier it can be for them to steal an identity.
2. Public financial records, including information that may negatively impact your credit score, such as bankruptcies, wage garnishments, liens, outstanding taxes or court judgments. Bankruptcies can stay on your public record for 10 years.
3. Creditor information, such as the type of credit account (mortgage, car loan, credit card, etc.), the date the account was opened, the loan amount, your credit limit, the account balance and your payment history. Be sure you recognize all the accounts to verify that fake accounts were not set up using your identity.
4. Credit inquiries, which occur whenever you apply for a loan or authorize a lender to ask for a copy of your credit report. If you see a business name that you don't recognize, ask a customer service representative with the credit reporting agency for more information, including what action, if any, needs to be taken.
How to Read Credit Scores
A credit score is a rating between 300 and 850 that helps a lender predict how likely you are to repay a loan on schedule. Your credit score is determined by compiling past information from your credit reports, such as length of credit history, recent credit activity, credit usage, types of accounts and payment history.
The higher the number, the better the risk you are to the company making the loan. A credit score that falls between 800 and 850 is considered "exceptional." A credit score that's between 740 and 799 is "very good." A score that falls between 670 and 739 is considered "good." A credit score between 580 and 699 is considered "fair." Anyone with a score below 579 is considered a poor credit risk. Most American consumers have credit scores that fall between 600 and 750.
If your goal is to improve your credit score, you should:
Apply for credit only when you need it.
Make your loan payments on time.
Pay at least the minimum amount due.
Keep the balances of your credit cards low.
How to Dispute Errors in Your Credit Report
If you find an error in your credit report, it's important that you contact the credit reporting agency and dispute the error as soon as possible. This helps correct your report and could help locate the source of the misinformation. Visit the reporting agency's website for contact information. You can dispute an error by phone, mail or online. Be certain to keep a record of all interactions with the agency.
Your credit report is probably not something you pay much attention to until you need it. However, reading a credit report from one of the reporting agencies each year is highly recommended. Doing so enables you to identify credit-reporting errors, protect your credit rating and recognize any signs of possible identity theft.
Stein Saks, PLLC fights for your rights as a consumer, we will help you properly dispute the error to the credit reporting agencies and if the issue is not fixed, will file a lawsuit on your behalf . We provide consumer protection law services that are related to:
Fair Credit Reporting Act (FCRA) errors
Fair Debt Collections Practices Act (FDCPA) issues
Telephone Consumer Protection Act (TCPA) matters
Contact us for help getting the compensation to which you are entitled.
---