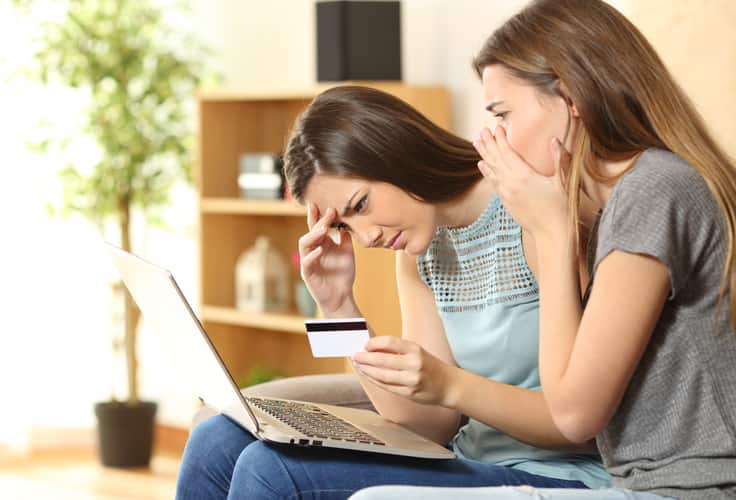 08 Nov

How To Deal With Identity Theft

Identify theft is the stealing of any personally identifiable information — such as your name, social security number, address or credit card information — for the purpose of committing crimes or other fraud. In 2019, the Federal Trade Commission (FTC) received 650,572 complaints regarding identity fraud.

Armed with an alternative identity, an identity thief can apply for car loans, home loans, new credit cards, income tax refunds, social security benefits, unemployment checks or even medical care. Purchases of big-ticket items such as vehicles and electronics are often made quickly using illicit credit cards before the rightful owners of the identity or the store managers are made aware of the fraudulent accounts.

However, by the time the fraud is uncovered, the identity thief has often stolen enough merchandise to keep or sell at a substantial profit. In the meantime, unfortunately, the rightful owners of the stolen identities can suffer extensive damage to their finances and credit reports. They sometimes need to prove they were not the people who made the purchases.

In addition to making purchases using a stolen identity, the identities themselves have become merchandise. Selling stolen identities has become its own business.

The following are examples of personally identifiable information:
Name
Date of birth
Driver's license number
Social security number
Bank account numbers
Credit card numbers
PIN codes
Passwords
Electronic signatures
Fingerprints
Any other information that can be used to access a person's financial resources
Sometimes, a single piece of information — such as your name — is not enough for an identity thief to open a credit account. However, the more information that an identity thief learns about you, the more pieces of your life the thief can assemble. That's why it's important to keep all personal information private, no matter how harmless the information might seem by itself. This includes answers to security questions that could be used to reset website passcodes, such as your mother's maiden name, the name of your first job or the town where you met your significant other.
What Is Taxpayer Identification Number (TIN) Theft?
A taxpayer identification number (TIN) is the identifier given to you, your business or your employer by the Internal Revenue Service (IRS) for the purpose of administering and paying taxes. TINs can be social security numbers, which are issued by the Social Security Administration. Employer identification numbers, individual taxpayer identification numbers and preparer taxpayer identification numbers are considered TINs that are issued by the IRS.
Taxpayer identification numbers are just as important as social security numbers. Identity thieves are known to steal TINs and file fraudulent tax returns in order to claim tax refunds.
What You Can Do To Prevent Identity Theft
Identity theft tips include being pro-active in high-tech and low-tech ways. Here are some steps you can take to protect your identity:
Use a different password or PIN code for each merchant. Don't repeat passwords.
Create passwords that are at least 15 characters in length, as these are more difficult for a hacker's computer programs to crack. Incorporate capital letters and special characters.
Change your passwords frequently. Set a reminder in your phone's calendar to do so.
Shred documents before putting them in the trash or recycling, especially anything that might have your name, address and account number.
Incorporate biometric log-on technology — such as fingerprint or facial recognition — where available.
Review your bank and credit card statements regularly. Contact customer service whenever you see a purchase that you don't recognize.
Set spending limit notifications with your bank and credit cards. They will send you an automatic email or text alert if a purchase is made that exceeds your set dollar amount.
Make sure your computer has anti-virus software installed.
Don't open emails from people you don't recognize or companies you don't frequent. Never click on a link in a suspicious email.
Erase computer drives before giving them to electronics recyclers.
Use two-factor authentication for your computer, devices and account log-ins. Two-factor authentication often involves sending a code to your cell phone, which you can enter on a website's log-in screen.
How To Deal With Identity Fraud
The first thing you should do when you discover your identity has been stolen is contact your local police. They will file an official police report, which you will need for your records and identity recovery process. You might be required to provide photo identification, such as a driver's license or passport.
Dealing with identity theft can seem daunting. While the Federal Trade Commission (FTC) has an online, step-by-step guide to report identity theft, that process involves several complicated steps. On your own, it may be more difficult to close accounts or retrieve your compromised data. To help you through the recovery process, consider contacting an experienced law firm such as Stein Saks, PLLC. Our skilled attorneys can help you get your identity and sensitive information back under your control, at no cost to you.
Knowing how to deal with identity theft can help you prevent it from happening in the first place (or happening again). Take actions to keep your personal information — even information you don't consider to be all that important — private.
Stein Saks, PLLC is a consumer protection law firm. We fight for your rights by providing consumer protection law services in our four areas of practice expertise:
Fair Credit Reporting Act (FCRA) violations
Fair Debt Collections Practices Act (FDCPA) matters
Telephone Consumer Protection Act (TCPA) issues
Bankruptcy assistance and advice
We stop abusive practices to consumers. Contact us if you need help getting the compensation you deserve.
---